Address:
Beogradski put b.b. 14221 Valjevo, Serbia
Phones:
+381(0) 14 283 092
+381(0) 14 283 104
Fax
+381(0) 14 283 104

E-mail:
office@comprex.rs
Address:
Jurija Gagarina 176, 11070 Belgrade
Phone / fax:
+381(0) 11 3189 667

Cell:
+381(0) 69 5426 102

COMPANY PROFILE
Comprex is a privately owned company formed in February 1990 and specialising in the design, manufacture, servicing and distribution of engineering equipment for industrial use. Manufacturing is carried out at the factory in Valjevo, the main products of which are a vide range of pumps..
Manufacturing and servicing incorporate modern menagement techniques such as Just in Time and Quality Control to international standards.
Service support is available 24 hours a day.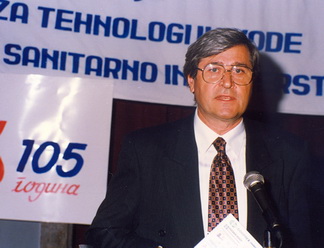 We make pumps tough. Tough means reliable. Tough means hard wearing to reduce the expense of maintenance and parts replacements. Our pumps are built under the COMPREX philosophy:

That quality pays!
Miroslav Matijasevic
Founder
Distribution and sales of Comprex products and spare parts are conducted by a team of sales persons, servicing the whole of Serbia. These sales specialists are able to provide full technical information on performance and applicability of all our products.
Comprex is well known in Serbia in its field and pursues a policy of continually expanding its own product range. Besides working on the development of the company, Comprex significantly aid the development of sport and music art. Comprex is the founder of the Karate Club Comprex", "Volleyball club Comprex", "Serbian chamber Choir and Orchestra" and an important supporter Jazz Festival in Valjevo and Belgrade.